Today's my 32nd Birthday and all of children are under the weather...YUCK! Mia had her well baby appointment the night before last and I had to give her some Infant Tylenol last night and early this morning for fever. Interesting because kids 1 and 3never got fevers after their immuniztions, only 2 and 4. Funny how that works!
Anyhow, my morning started off well. My 2 oldest sons, Nick & Josh and their dad sang "Happy Birthday" to me before taking Nick to school. It was great because after they finished, Josh walked over to the kitchen gate looking for the cake and decorations, ready to PARTY. What a cutie!
As for the party, I think we'll be postponing festivities for the weekend...Here's a card that I made using product from the
House of 3
. I'll be sending these out to friends and family later this week.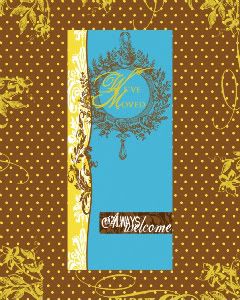 Enjoy Your Day;)